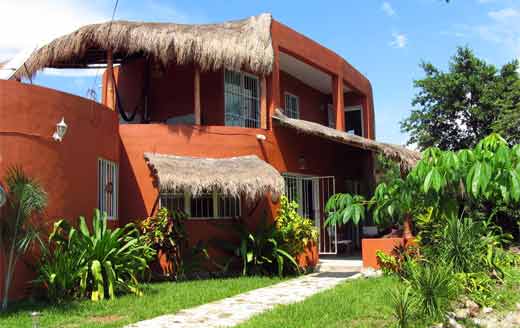 CASA CACAHAUTE
A Jungle B & B
Sandra and Dan have been hosts for their B and B for many years and love meeting new people and making friends. They have now created a paradise for those who want to appreciate natural beauty, birding, creative activities, in a peaceful relaxing atmosphere. They are well known for the fabulous breakfast they serve to their guests and the inviting and homey atmosphere they create. Staying with them is almost like coming home Sandra and Dan have built two lovely spacious rooms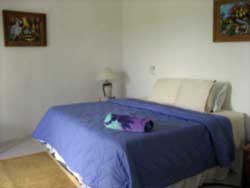 upstairs on top of their home, overlooking the beautiful jungle with a palapa covered terrace, outside living room, with a magnificent view over looking the jungle. The property is on 2 and half acres of land which assures guests of a peaceful and relaxing atmosphere.
The house was designed by a Spanish architect who has built beautiful hotels in the area. The house is extremely unique and the structure flows with the underground rivers. The trees, flowers and plants create a beautiful, serene and cool surroundings. There are hammocks around the property to relax and read a book and enjoy. If you are tired of the ordinary vacation and want something special and different that makes you feel like you are in Mexico and the Mayan land, come stay with us. We cater to our guests and make sure they have a wonderful time. We can arrange special private birding excursions, jungle walks, cenote trips and help guide you on where to go and what to do in the area. Ideal place for Yoga, meditation, exercising, biking, nature walk and cross cultural socializing with the Mayan women and children. The beautiful sandy beaches of Puerto Morelos are easily accessible and only 5 minutes away. It is very close to the Mayan community, where you can mix and mingle with the Mayans and feel like you are in Mexico and not a tourist resort. The restaurants and town square are minutes away.
COST: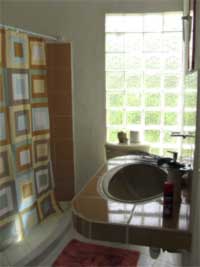 Rental rate is $55 US per night including breakfast for 2 people. $40 for one person including breakfast.
The 2 rooms were especially designed for our guests. The rooms are lovely, spacious with windows and plenty of light. We offer king-size or twin beds with beautiful all cotton bedding, thick bath towels. Beautifully tiled bathroom in each room and plenty of closet space for your things. The view from all the windows are spectacular. There is a palapa terrace that can be used as an outside living room with table and chairs, sofa and refrig. Great for reading, writing, painting, meditating, birding, also with hammocks to relax. Enjoy the sunset with a glass of wine on the terrace in the evenings.