IXCHEL JUNGLE SPA - a non-profit organization
We are a group of Mayan women who represent the community of this region. Our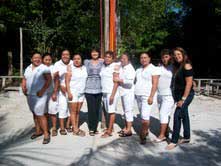 childhood Mayan communities are not far away. When we were young, our dream was to move to Cancun to find good jobs but the only work we could find was in the hotels because we did not have adequate education.
Like many women, we created a family in Puerto Morelos. When our family grew, we looked for work to help support our families. The pay for the work that we found was not sufficient economically for our families. Our dream was to find some work that we could help our children get a better education and ultimately a career.
Ixchel Jungle Spa, a non-profit organization, of Puerto Morelos, represented by Sandra A Dayton as president, offered a project for the women of our community enabling us to earn a better income so we would have the opportunity to support our families and ensure that our children could go to school and get a higher education.
A hectaria ( 2 and half acres ) of land was purchased in 1998 and the project began with the creation of buildings for the project. During the course or 6 years, many community events were held, summer school projects for the children, and workshops for the women.
In 2004, when the installations were complete, the Women's Project began
EL JUNGLE MARKET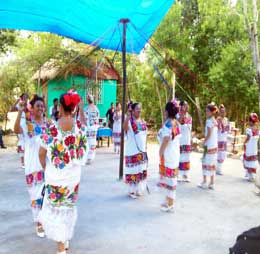 The Sunday Jungle Market began on Sundays in December ( tourist high season). We offered hand made crafts from the region. A loan was obtained for sewing machines and we were able to offer hand embroidered designs on blouses, shorts and dresses that we made. The second year a food court was created. We offered delicious home made regional food, that the the tourist's husbands LOVED.
The third year we created a Mayan show and Jarana (folk dance). Every year we keep renewing our hand craft products, the food and Mayan show.
JUNGLE SPA
Mayan Massage has been a time honored tradition in the Mayan communities for
centuries. As children, we learned Mayan massage from our mothers and grandmothers. Now we offer Mayan massage to the tourists. We keep improving our massage skills with frequent workshops from professional and government sponsored classes. We have learned that we need to work as a group and in harmony with one another. We take responsibility and have the discipline to be successful. We know we can accomplish whatever we want together.
FUTURE PROJECTS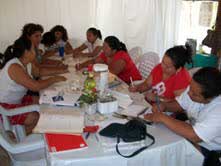 In the future, we plan to honor the Mayan women and their sustainable lifestyle in the jungle. An organic garden has been started and we will be selling organic herbs and veggies at the Sunday jungle market
Please use our Paypal button for secure donations.
We want to continue working with tourists on the Mayan Riviera, add additional women from our communities into our projects, and plant the seed for a better future for our families. We want our children to become leaders and professionals in our community and perhaps be an example to the rest of the world!