IXCHEL JUNGLE SPA SERVICES
Ixchel Jungle Spa is open, all year, on Tuesday, Wednesday, Thursday, Friday, Saturday and limited times on Sunday.
Come to the Ixchel Jungle Spa and experience something so unique and different that you will be dreaming about it for months after you are back home!
Treat yourself to one of the best massages ever. We call it a "GIFT FROM THE MAYAN GODS".
Relax in a jungle garden surrounded by palm trees and native plants, under a thatched roof palapa with a breeze gently blowing, birds singing and smells of copal incense burning. The atmosphere will transform you into another world of Mayan myth and legend. The Mayan women giving the massages are from a culture where giving massages is a way of healing. They are all from small Mayan villages. When they were born, a mid wife massaged them out of their mother's belly. They were massaged all during the infancy and at 7 or 8 years old they were taught to massage their parent's and grandparent's tired bodies when they came home from working in the cornfields.
The women's hands are blessed with the gift from Gods. They have been given the "DON" or "HEALING HANDS" and they will work magic on your body. The Ixchel Jungle Spa, a non-profit organization, is directed by Sandra A. Dayton. The Spa was created so that the local women could benefit from the tourists coming to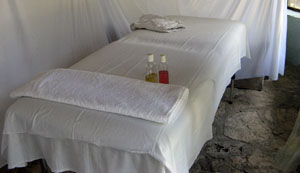 the area and make money for their families. We want visitors to experience a fabulous, unforgettable Mayan massage for less then half of what they could pay at a 5 star resort. A win, win situation for everyone and where cross culltural friendships are made.
We are waiting for you!
TEEXOB (you are me and I am you)
IXCHEL JUNGLE SPA TREATMENTS
Group Massages, The Jungle Spa can take up to 8-10 people at a time for massage
Mayan relaxing full body massage $40 US (1 hr) or treat yourself to a hour and a half. You deserve it. $60 US(1 hour and half)
Deluxe 4 handed full body massage This is unique and absolutely amazing. $80 US (1 hour).
Aloe Vera and Banana Leaf wrap with massage! Can you imagine having fresh Aloe Vera from it's leaf smothered all over your body and wrapped in bannana leaves for a refreshing and rejuvenating youthful skin. An unforgettable experience! A facial is included. $60 US( 1hour) $80 US (1 hour and half)
CHOCOLATE body wrap and massage. You may think you are dreaming, but, yes, we offer this exotic treatment. We use the chocolate fresh from the cacao bean. It works magic on your skin and if feels so smooth, like velvet. $60 US. (1 hour)
Full body massage and facial with Aloe We have come up with something unique. Nothing like feeling like a queen (or king, the men get this treatment too)! $50 US (1 hour)
PAPACHO massage! Some people have a difficult time with massages. Perhaps, it is the first time or you bruise easily or your body has a lot of inflammation. This massage is very soft and gentle. $40 US (1 hour) and $60 US (1 and half hour).
Mayan deep tissue massage...This is for people who have had massages before. Deep tissue with massage on every part of your body, front, back, and sides, Mayan body wrap, special Mayan techniques. $60 US (1 and half hour)
Hangover?.......Try our wonderful relaxing hangover massage. We use very special mayan herbs to smooth your aching head and special massae for your aching body. $60 US (1 and half hour)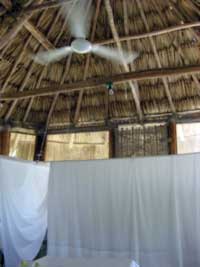 Special Groups
Make a special appointment with us and come out with your family and friends for a special day of unforgettable spa treatments. We are prepared to handle group massages, 6 to 8 massages all at the same time. If the groups would like to experience a small part of the Jungle Market, that can be arranged.
Planning to get married and having your ceremony and celebration here? Consider creating a special day at our Jungle Spa for you, family and friends, being pampered by the Mayan women.
SUNDAY JUNGLE MARKET
Jungle Market is open from mid December to Easter Sunday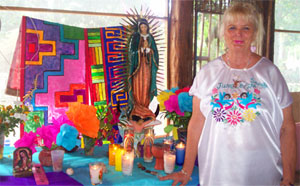 Come and meet the local women and their charming families. make some friends and feel like are are a part of our community. Market day in the jungle offers a fabulous assortment of unique handmade crafts, many made from the area's natural resources. YOU WILL NOT FIND THESE PRODUCTS ANYWHERE ELSE ON THE COAST. There is fabulous Mayan food made by the women. It is delicious and healthy. Come have breakfast!
PRE-HISPANIC SHOW AND MAYAN DANCE, THE "JARANA" SHOW 11:30 A.M.

This is organized by the local non profit organizaion, Ixchel Jungle Spa. This is a unique Mexican experience, a short, safe adventure for the whole family. Come and meet the local women and their charming families. Make some friends and feel like you are part
of our community.
GETTING THERE: By car cross the highway from Puerto Morelos and make a left turn. l Just past the gas station make a right hand turn, 3 blocks past the park, make a right turn. Make a left turn at the second corner. Go straight , even when the paved road ends. At the sign "calle Dos" make a right turn and continue for 500 meters. Or take a taxi or collectivo.