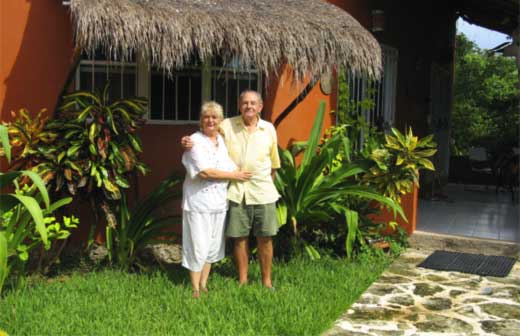 As we sit out on our lovely front patio of our home it seems like we are in the Peten or Belizan jungle. We feel connected to nature and our magnificent natural surroundings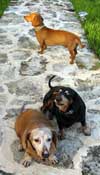 with no buildings or high rises around us. I can hardly wait each morning to take our 3 daschunds out for their morning stroll around our neighborhood and say good morning to our Mayan neighbors. We have been living in Puerto Morelos 23 years and have finally fulfilled our dream and have built our beautiful home and live in the jungle! It has been the best decision and move we have ever made. We love living in the jungle. It's the first time we have been cool during the summer season since we have lived in Pto Morelos.
When we first arrived in the area we thought the beach is where we would want to live. However, after a couple of years, when I began my tours in the jungle, I connected to the energy of the plants, trees and eventually realized that one day I would be living in the jungle and began looking for property. Dan tells me when he was young, he read an article in a National Geographic magazine about Chichen itza and felt that he would one day live in the Yucatan jungle!
Now our dreams have come true and we live on 2 and half acres of beautiful jungle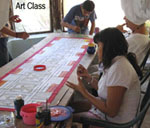 land. Some of the land has been set aside for Ixchel Jungle Spa, a non profit organization, created with friends over twelve years ago. I have been working on Ixchel Jungle Spa property for years now. There is a community center there and we organize workshops and classes for hand made crafts and English. During the winter months we have Sunday Market Day, with the local women participating, who sell their home made crafts and delicious regional food. Don Candelario offers a short jungle tour and chiclero camp experience for the family. Jungle Spa Day, where people staying in the area can come for mini massages, facials, masks, pedicures and
manicures, braids, energy treatments, sweat lodge and natural remedies. Guests staying on the property can participate as much or as little as they would like. It's a great way to make new friends and participate in the local community.
The neighborhood is wonderful, with local Mayans and their families. Many of Sandra and Dan's friends lived in Puerto Morelos but sold their property and moved across the highway into what is called the "colonia". We live behind this colonia in an area called the Zona Urbano. Ever since we moved here it has always been our intention to be of service to our community and help the local people in some way. I remember when I met the Mayans who live in the jungle around here, one of the first things they asked me was " why do you live on the beach?". I thought it was odd because I thought it would be everyone's dream to live on the beach. I would explain it was beautiful to see the Caribbean, go for a swim and enjoy the sun and sand. They would say to me "why wouldn't you want to live in the jungle, where you have tall trees to keep you shaded and cool, where you can dig down 4 or 5 meters and have fresh water to drink. Where you can grow corn, beans, tomatoes, lettuce, radishes, and have fresh fruit trees like papayas, oranges, bananas, grapefruit, avocado, guayaba, guanabana, plums ,etc . Raise farm animals, like chickens, turkeys, goats and pigs, and grow your medicinal plants to heal you." They made their point and I felt ignorant, for centuries no one ever lived on the beach. They went to the beach for fishing and trading but not to LIVE! Living on the beach would be like living on a desert. Nowadays we get it. We live in the coolness of the jungle and when we want to go to the beach we go to Pto. Morelos for lunch or dinner at one of the restaurants. Most of the time we are busy in our home gardening, enjoying nature, involved in our community projects.